STIMULACTOR®
SIMPLY EXCELLENT MILKING!
StimuLactor® makes individual quarter milking possible without the hassle of clawpieces. Through easy handling of the teat cups and their milk tubes, StimuLactor® ensures maximum operating comfort.

Optimally positioned teat cups with individual milk tubes are necessary to achieve a high milking level and to keep animals healthy.
The actuator is the secret of complete milking. This system requires little space and is suitable for side-by-side and narrow herringbone parlours.
Enjoy milking!

Low vacuum for gentle milking (34 kPa)



Light teat cups and single-handed attachment



Respectful to the animal's and milker's health



Much ruminating and little defecating



An outstanding milk yield and stimulated milking



High fat content through ideal milk-out



Smooth removal of the milk


Milking characteristics
Rhythmic up and down movements of the actuator and a nature-oriented vacuum of 34kPa are the best way to meet the biological requirements for animal-friendly milking.

Flaccid and loose udders at the end of milking serve as visible proof. Warm and well perfused teats assure the proper functioning of the teat canal as natural barrier against infections. This is clearly reflected by favorable somatic cell counts and teat conditions.

In association with a periodical air inlet, the actuator's stimulation, which is transmitted to the teat cups and the udder, guarantees an optimal emptying of the mammary glands. The cows are calm and relaxed.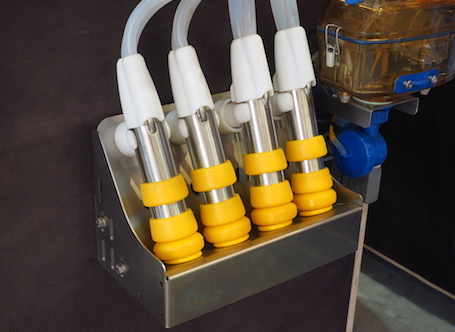 Click to discover the StimuLactor! Then double-click for full screen.