Adapts softly to the teat like the tongue of a calf



Is gentle on teat tissue and promotes healing processes



Does not constrict, even in the end of milking



Maintains ideal head vacuum range



Increases acceptance and renders milking more animal-friendly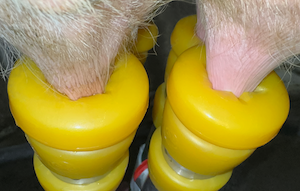 This liner regulates the head vacuum. The ingeniously designed lip allows air to flow in at exactly the right time and prevents the head vacuum from rising too high. Therefore, the teat base is not constricted and the teats do not swell.
Equally controlled, the wave-shaped liner opening closes and stabilises the head vacuum. This prevents unwanted air admission.

The functionality of this completely new silicone liner prevents basic milking problems, as udder health is promoted and the animals are milked out quickly and completely.
Under the guiding principle that milking technology adapts to the animal and not vice versa, Siliconform has broken new ground – in yellow, of course.